June 15, 2020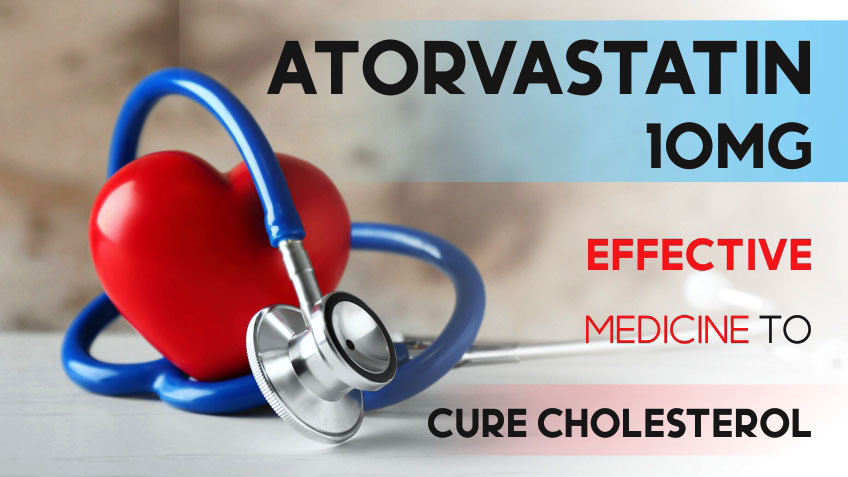 A Hale and hearty lifestyle is a good initiative and can defense against high cholesterol. As some people have a genetic predisposition to high blood cholesterol levels. And some others may have raised cholesterol levels due to an unhealthy lifestyle, which may improve with a healthy diet and exercise. When you have high cholesterol, the first thing to do is to change your diet and fitness less saturated fats, no trans fat, less sugar, and more activity. However, diet and exercise aren't enough sometimes, and you might need to take cholesterol medications. Drug therapy plus diet can help to bring cholesterol down to a safe level.
As per the Pharmaceutical Company in Ambala, there are several different types of prescribe drugs that lower LDL (Low-density lipoprotein).
Why Atorvastatin 10 mg is prescribed?
Atorvastatin Tablets belong to a group of medicines known as statins, which are lipid (fat) regulating medicines. It is used to improve cholesterol levels in people with different types of cholesterol problems. It also reduces the risk of heart diseases and stroke. One can use it together with diet, weight loss, and exercise. Besides, it helps to prevent cholesterol from building up in your arteries.
This drug helps to lower your (Low-density lipoprotein) or bad cholesterol and raise your high-density lipoprotein (HDL) or "good" cholesterol. Atorvastatin improves your body's ability to get rid of LDL cholesterol through your liver.
Most importantly, before starting treatment, you will set yourself on a low-cholesterol diet, which you should maintain also during therapy with Atorvastatin Tablets.
How to take Atorvastatin medicine and how does it works?
Atorvastatin 10 mg acts on the liver to stop it from making Cholesterol. This lowers your blood cholesterol level. This tablet doesn't upset the stomach; you can take it with or without food.
Take Atorvastatin 10 mg once a day. You can choose to take it at any time; it would be beneficial for you if you stick to the same time every day.
Since your body makes most cholesterol at night, so, doctors may recommend you to take it in the evening. If you're not sure when to take your medicine, ask a pharmacist or your doctor for advice.
Take Atorvastatin tablets whole with a glass of water. If you've been given chewable tablets, you can chew them or swallow them whole with a glass of water.
Your dose depends on the various reasons for taking this drug. Aside from this, other things also are matter such as your cholesterol levels, and what other medicines you're taking. Ask your doctor or pharmacist for advice if you're unsure how much to take.
Avoid large amounts of eating grapefruit or drinking grapefruit juice while using this medication. Or else it may lead the amount of this medication in your bloodstream.
Last but not least If you are taking some other drugs to lower your cholesterol for example bile acid-binding resins then you should take Atorvastatin at least 1 hour before or at least 4 hours after taking these medications. These products may react with Atorvastatin, preventing its full absorption.
Precautions
Do not take drinks that contain alcohol as it may raise your risk for liver disease when it is taken during medication. Take it in a limited amount. Talk to your doctor if you drink more than two alcoholic drinks per day.
Atorvastatin should never be used during pregnancy. It can harm the unborn baby.
If you are hospitalized due to serious injury or infection, or if you are having surgery, including dental surgery, tell the doctor or dentist about your medical history.
Do not breast-feed while you are taking this medication because it may possible risk to the infant. So it is not recommended during breastfeeding.
What should you do if you missed a dose?
You should take the missed dose as soon as you remember it. If it is near the time of the next dose, skip the missed dose and continue your regular dosing schedule. Remember that you do not take a double dose to make up for a missed one.
World Healthcare – Pharmaceutical Company in Ambala is a renowned name in supplying quality pharmaceutical products says that ATOWOR 10 – Atorvastatin 10 mg is part of a complete program of treatment that includes exercise diet, and weight control. Follow the diet, medication, and exercise routines very closely. Pharmaceutical Company in Ambala has made every effort to make certain that all information is factually correct, comprehensive, and up-to-date.
However, given information is provided for educational purposes only. You should always consult your doctor or other healthcare professionals before taking any medication.